Join the Team

JOIN THE TEAM....AND BE PART OF SOMETHING FABULOUS
Do you like the idea of earning money & various other perks while:
being your own boss & setting your own hours?

working around your current commitments?

helping to bring the fight against breast & testicular cancer into bathrooms everywhere?

helping to raise money for a charity of your choice?

promoting a totally unique brand?
If the answer to any of the above is YES then you wont regret becoming a Sniffette!
Join our network of Sniffettes, working wonders up and down the country, and enjoy a truly flexible, exciting and rewarding way of making some extra money.
Introduce the Sniffy Wiffy brand to your friends, family & local area in whichever way you see fit - by hosting parties, selling in people's homes, attending events, coffee mornings....the list and opportunities are endless. From participating in occasional events to a jam-packed timetable, the choice is absolutely yours.
As your own boss, you can enjoy the flexibility of setting your own hours - working as little or as often as you like to suit your individual circumstances and other commitments.
Earn commission and 'points for perks' from every sale, but without the pressure of having any sales targets to meet. We will not check up on you or strike you off our books for taking a bit of a breather as this is your business to take in whatever direction you choose. We are here to provide everything you need to get going as well as ongoing advice and support - as much or as little as you like. Should you wish to use this opportunity to go all out and create your own successful business then we will help every step of the way. At the other end of the scale, if you fancy just dipping your toe in and doing the odd event, that is fine too and you will be just as welcome.
As a working mum, I fully appreciate the value in being able to earn some extra cash in a way that fits in with other commitments - such as children, other jobs or study. Or, perhaps while on maternity leave or in-between jobs you would like the opportunity to socialise and earn money at the same time?
No experience is necessary and no references are required. You simply need to be a UK resident aged 18 or over with access to a PC and above all, supportive of the Sniffy Wiffy mission!

HOW DOES IT WORK?
Simply purchase a Sniffette Kit and launch your business!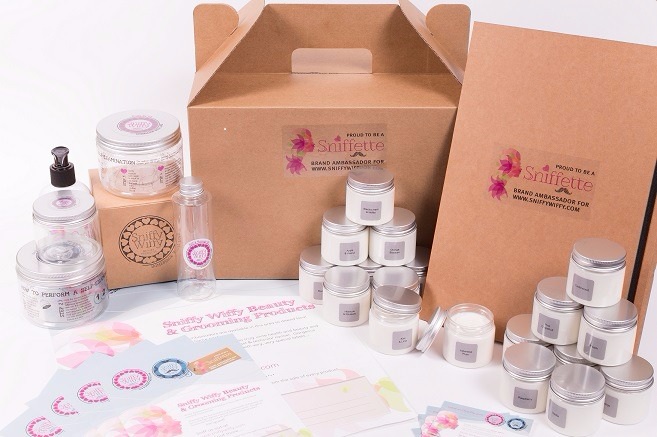 We have put together these complete kits, available to purchase for £49.99 (plus p&p), containing absolutely everything you need (and more!) to be a super Sniffette.
Our kits include as standard:
Sniffette Handbook
A complete guide containing everything you need to know
Marketing Toolkit
A complete guide to marketing your way to Sniffette success
Template press release
Electronic badge/logo
Business Toolkit
Business Cards
Leaflets & Posters
Product Brochures
Order Forms
Product samples
Sample packaging (including our innovative breast & testicular checking labels)
Tester handcream
18 x samples of our best-selling wiffs
(Option to purchase a further 10 x sample wiffs)
Making full use of your Sniffette Kit, simply introduce our range of products to your family, friends and local area, earning commission and points (which translate into perks) from every product sold.
HOW MUCH WILL I EARN?
This is a commission-based opportunity therefore the amount you earn will depend not only on which level of commission you are at, but how many sales you generate.
In addition to commission, we operate a 'points for perks' system. Why? Because we want to reward Sniffettes for pretty much everything they do to promote our brand. For example, points are awarded for (amongst other things):
every order generated (regardless of order total)

every website sale where Sniffettes name is mentioned (a great way of earning commission & points from repeat customers or distant friends who cant attend events)

wedding favour referrals

events packages ordered
Perks include, but are not limited to:
moving up to the next level of commission

a greater personal discount

facebook/twitter promotion from Sniffy Wiffy accounts

your own page on our website (for Level 4 Sniffettes)
The following table illustrates the different levels of commission, according to how many points have been earned, and the associated unlimited personal discount we offer all Sniffettes for them to use for any Sniffy Wiffy purchases of their own.
| | | | |
| --- | --- | --- | --- |
| Level | No. of Points Earned | % Commission | % Personal Discount |
| 1 | 0-500 | 20% | 20% |
| 2 | 501-1000 | 25% | 25% |
| 3 | 1001-2000 | 30% | 30% |
| 4 | 2001 + | 35% | 35% |
WHO IS THIS ROLE BEST SUITED TO?
Anyone! We are not looking for a particular 'type' of person and we do not require any experience, sales or otherwise, or references.
However, with that in mind, we feel this role would particularly suit:
parents wanting to work around children/family commitments & childcare arrangements

part-time workers who are looking for an additional source of income

students

those who want to socialise whilst at the same time earn money

those seeking to gain valuable experience starting and running their own business

those wanting to get back in to work after a career break/period of unemployment

those who want to be able to add attractive and sought-after skills to their CV (such as marketing/communication/organisational/sales skills)
Overall, our aim is to empower people to launch their own business whilst doing amazing things for both breast and testicular cancer awareness and for charity so if this sounds good to you, then you are no doubt the right person for us.
HOW DO I BECOME A SNIFFETTE?
If this is of interest, or indeed if you have any questions whatsoever, please contact is via our online contact form or email [email protected]